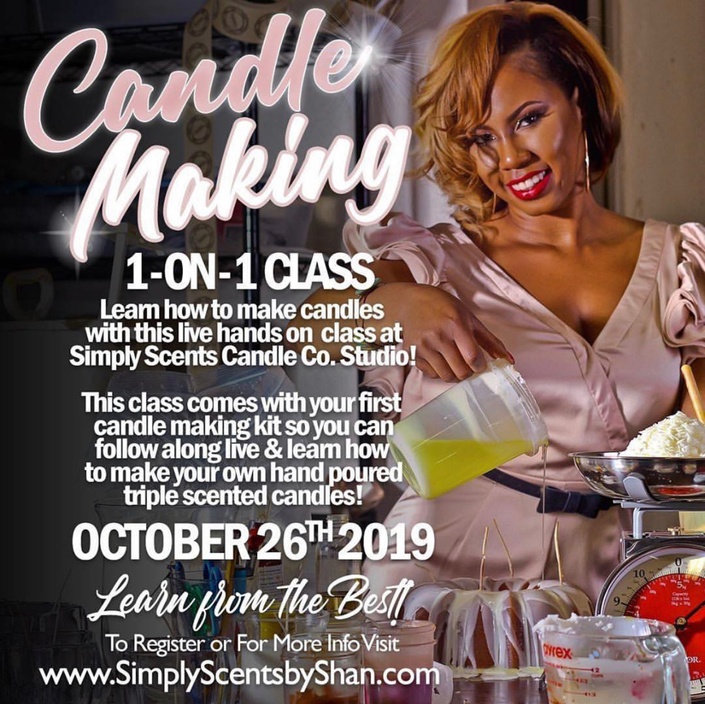 Candle Making 1 on 1 with Shan
Hands on Candle Making Class with Shan
Learn from the Best! Simply Scents Candle Making 1 on 1 hands on with Shan the Master Candle Maker. The Class is $599 and is scheduled for Oct 26th 2019. Class will be held at Simply Scents Candle Co. 5217 Almeda Rd Houston Texas 77004. 12 noon time. Class includes Candle Making Kit.
Your Instructor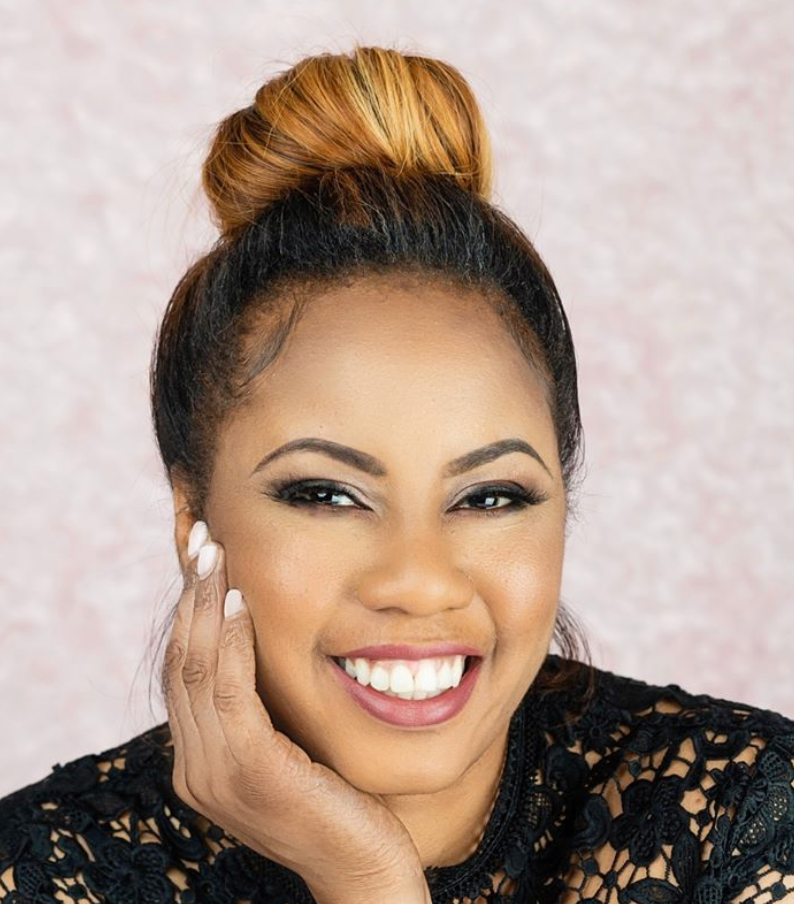 Simply Scents Candle Company CEO makes Scents of Entrepreneurship
Vibrant, creative, dedicated, and passionate are not only words that describe Houston-native Shanquita Greggs but they also transcend and embody her products.
Seventeen years ago, Shan started making her candles in her grandmother's kitchen and sold them out of the trunk of her car to earn extra income. After Sept 11th, losing her job as a flight attendant for United Airlines, catapulted her into entrepreneurship.
"After watching a holiday episode of Martha Stewart," reminisces Shan. "I decided to take a $467.00 paycheck and invest it in myself. I have the opportunity to do something that I love every day. She has since then turned that $467 into over a quarter million in sales.
Shan credits her entrepreneurial spirit to genetics and her love for math and crafts. She gives credit to the United States Air Force, where she served eight years working with B1 bombers and performed aircraft inspections of F16 and T-38 fighter jets for NASA, In addition to running her business full-time, Shan also is a dedicated community activist, taking a hands-on role with the city's disabled community, teaching basic job skills and training. Shan is a leader within the Settegast and surrounding Greater Ward communities, firmly believing in giving back.
Simply Scents Candle Company has several different products that consist of triple scented candles, room fragrant sprays, wax melts, oil burners, reed diffusers, jelly jars, electric burners, bath and body products, accessories, and more. Simple Scents Candle Company's signature item, the Simply Scents Candle Bundt Cake, is a 5-wick candle decorated in the shape of a real bundt cake. This treasured item can last for 90 hours of burning time. Shop Simply Scents Candle Company's Store Front, select City boutiques, Amazon, and Groupon as well as online at www.simplyscentsbyshan.com.
Her love for her craft inspired her to make this step by step Candle Making Tutorial. She receives several calls a day from customers asking if she teaches candle making classes. She saw a need and immediately started to create this course. I want people to finish this video knowing the basics of candle making and utilize these techniques to make profits states Shan.
Frequently Asked Questions
When does the course start and finish?
The course starts at 12 noon and ends when the last student has fully comprehended Candle Making 101
Where is the Course held ?
Simply Scents Candle Co, 5217 Almeda Rd. Houston, Texas 77004
What should I bring?
Just show up. Everything you will need to make candles is included in the Candle Making Kit you will receive upon arrival